A reliable domain registrar and web hosting provider are crucial when managing your online presence. In this Namecheap review, we'll explore the key features, advantages, and limitations of Namecheap as a leading domain registration and hosting company.
What is Namecheap?
Company Background
Namecheap is a renowned ICANN-accredited domain registrar and web hosting company. It has been a trustworthy platform for people and businesses wishing to develop an online presence since its launch in 2000. Namecheap has a solid reputation in the industry, thanks to millions of registered domain names and a large selection of hosting alternatives.
Key Features
Namecheap has many features that make it appealing to individuals and businesses. Some of the key features include:
Affordability: Namecheap provides competitive pricing for domain registration and hosting services, making it a cost-effective solution.
Easy Domain Management: The intuitive interface of Namecheap's control panel allows users to easily manage their domains, DNS settings, and other essential features.
Wide Range of TLDs: Namecheap offers a vast selection of top-level domains (TLDs), allowing users to choose the perfect domain extension for their websites.
Security and Privacy: Namecheap includes free WhoisGuard privacy protection with every domain registration, helping to safeguard personal information.
24/7 Customer Support: Namecheap offers round-the-clock customer support via live chat and a ticketing system, ensuring prompt assistance whenever needed.
Domain Registration
Easy and Affordable
Namecheap excels in domain registration services, providing a seamless and affordable experience. Registering a domain with Namecheap requires only a few simple steps. The transparent pricing structure ensures users can secure their desired domain names without breaking the bank.
Wide Range of TLDs
One of the standout features of Namecheap is its extensive selection of TLDs. Namecheap offers various options to suit multiple needs, whether looking for a traditional .com domain or a more niche extension. This flexibility allows individuals and businesses to create unique and memorable domain names that resonate with their target audience.
Free WhoisGuard Privacy
Privacy protection is essential when registering a domain, and Namecheap recognizes this. Every domain registered with Namecheap includes free WhoisGuard privacy protection. This service shields personal contact information from public access, reducing the spam and identity theft risk.
Web Hosting Options
Namecheap offers a diverse range of hosting options to accommodate different website requirements. From shared hosting for beginners to dedicated servers for high-traffic websites, Namecheap has scalable solutions for everyone.

Shared Hosting
Shared hosting is an excellent choice for individuals and small businesses with modest website needs. Namecheap's shared hosting plans offer reliable performance, generous storage space, and a user-friendly control panel, making it an ideal option for those starting their online journey.
Reseller hosting
Namecheap offers reseller hosting plans that empower users to effortlessly sell hosting plans to their customers under their own distinctive brand identity while benefiting from the opportunity to seamlessly white label Namecheap's exceptional hosting services.
WordPress Hosting
WordPress is one of the most popular content management systems, and Namecheap offers specialized hosting plans tailored for WordPress users. These plans provide optimized performance, enhanced security features, and seamless integration with WordPress plugins and themes, empowering users to build and manage their WordPress websites effortlessly.
Email Hosting
Namecheap's email hosting plans are reasonably priced, with different tiers depending on the number of mailboxes you need. Whether you're a solopreneur or a growing business, you can find an email hosting plan that suits your requirements without breaking the bank.
VPS Hosting
Namecheap's Virtual Private Server (VPS) hosting suits websites requiring more resources and flexibility. VPS hosting combines the affordability of shared hosting with the control and scalability of a dedicated server, offering users a reliable environment to host their websites.
Dedicated Servers
Namecheap's dedicated server hosting is designed for websites with high traffic and resource-intensive demands. Users have complete control over their server environment with reliable resources and full root access. This option is perfect for businesses and organizations that require maximum performance, security, and customization.
Security and Support
SSL Certificates
Namecheap understands the importance of securing online transactions and protecting sensitive data. They offer a range of SSL certificates, including affordable options and premium certificates with extended validation. SSL certificates encrypt website data and instill trust and confidence in visitors, improving conversion rates and search engine rankings.
WhoisGuard Privacy Protection
In addition to the free WhoisGuard privacy protection provided with domain registrations, Namecheap offers a premium version of the service. The premium version offers enhanced protection against spam and domain hijacking attempts, providing users with an extra layer of security for their online assets.
Two-factor authentication
Namecheap supports two-factor authentication to provide extra protection to your account. By activating 2FA, you add an extra step to the login process, making it more difficult for unauthorized users to get access.
24/7 Customer Support
Namecheap takes pride in delivering exceptional customer support. Their support team is available 24/7 to assist users with issues or questions. Whether through live chat or the ticketing system, Namecheap ensures that customers receive timely and helpful responses, enhancing the overall user experience.
User-Friendly Interface
Namecheap's user-friendly interface simplifies the process of managing domains and hosting services. The control panel is intuitive and accessible, allowing even those with limited technical expertise to navigate and change their online assets. The simplified design ensures efficiency and convenience, allowing customers to focus on developing and expanding their internet presence.
Competitive Pricing
Namecheap offers competitive pricing across its range of services. Namecheap strives to provide affordable options without compromising quality or performance, whether domain registrations, hosting plans, SSL certificates, or other add-ons. This affordability makes Namecheap an attractive choice for budget-conscious individuals and businesses.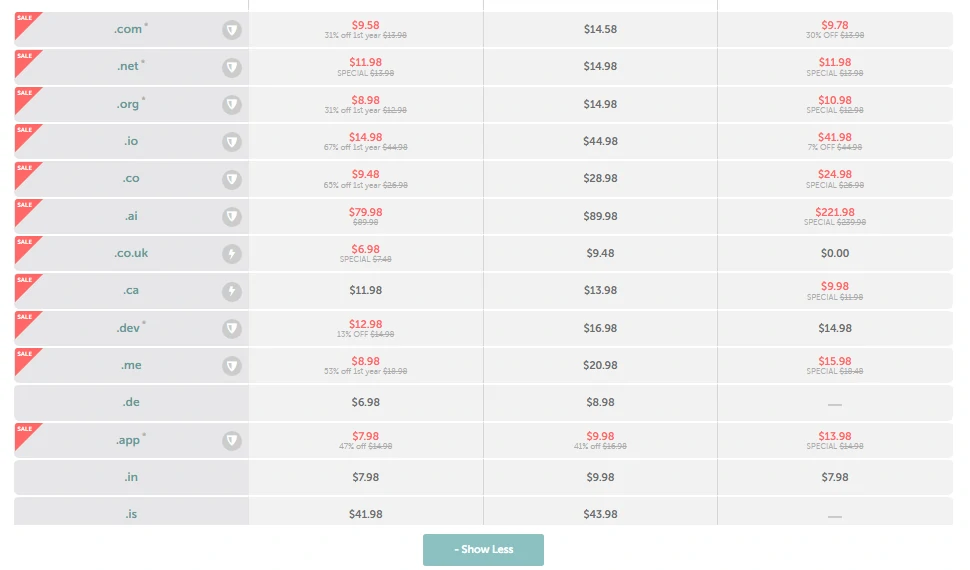 Namecheap's Control Panel
Namecheap's control panel is a powerful tool that empowers users to manage their domains, hosting, and other settings effortlessly. With a clean and intuitive design, users can efficiently perform tasks such as domain transfers, DNS management, email configuration, and more. The control panel's simplicity and functionality contribute to a smooth user experience.
Performance and Uptime
Namecheap invests in robust infrastructure and reliable servers to ensure optimal performance and uptime for its customers' websites. Their data centers are equipped with redundant power supplies, network connectivity, and security measures, minimizing the risk of downtime and ensuring sites remain accessible to visitors. The commitment to performance and uptime sets Namecheap apart from many competitors.
Positive Customer Reviews
Namecheap has garnered numerous positive reviews from its customers. Many praise the company's affordable pricing, user-friendly interface, and responsive customer support. Customers also appreciate the range of services offered, allowing them to consolidate their online assets under one reliable provider. These positive reviews validate Namecheap's commitment to customer satisfaction.
Limitations and Downsides
While Namecheap provides a wide range of services and benefits, there are certain restrictions and downsides to being aware of. One potential drawback is the lack of Windows-based hosting options, as Namecheap primarily focuses on Linux-based hosting solutions. Additionally, some users have reported occasional delays in customer support response times during peak periods. However, these limitations are minor compared to the overall value and quality provided by Namecheap.
Pros and Cons
Let's take a closer look at the pros and cons of using Namecheap:
Pros:
Cons:
Namecheap Coupons: Saving Money on Domain Registration and Web Hosting
In addition to its affordable and reliable domain registration and web hosting services, Namecheap provides an opportunity for users to save money through the use of coupons. Namecheap coupons can be a valuable resource for individuals and businesses, offering discounts and incentives to enhance their online presence.
How do Namecheap Coupons Work?
Namecheap periodically releases coupons that users can apply to their orders for discounted rates or additional benefits. These coupons typically come in the form of coupon codes that can be entered during the checkout process. Once a valid coupon code is entered, the discount or promotion is automatically applied to the total price of the order.
Finding Namecheap Coupons
To take advantage of exclusive discounts and save money on domain registration and web hosting, visit our dedicated Namecheap coupons page. We regularly update the page with the latest coupons, ensuring that you have access to the most current promotions. Please browse our selection of coupons in the Namecheap coupons Store and maximize your savings today. Make the most of your online journey with Namecheap!
Incorporating Namecheap Coupons Into Your Online Presence
Whether you are an individual or a business, incorporating Namecheap coupons into your online journey can have several benefits:
For Domain Registrations:
Cost Savings: Using coupons allows you to register domains at discounted rates, saving you significant money over time.
Flexibility: Coupons allow exploring different domain names without committing to higher costs. This flexibility will enable you to find the perfect domain that aligns with your brand and target audience.
For Web Hosting:
Budget Management: Coupons can help you stay within your budget while enjoying high-quality web hosting services. This financial flexibility is especially beneficial for individuals and businesses with limited resources.
Upscaling Opportunities: Discounts provided by coupons can incentivize you to upgrade your hosting plans or try out additional services. This can enhance your website's performance and allow for future scalability.
Building a Reputation: By offering discounts and deals through coupons, Namecheap users can establish a reputation for providing value to their customers. This can lead to positive reviews and long-term working relationships.
Conclusion
In conclusion, Namecheap is a reputable and reliable domain registration and web hosting company with a strong track record. It is an appealing choice for people and companies that want to start or grow their online presence due to its accessibility, variety of services, user-friendly interface, and excellent customer care. Namecheap is a dependable business partner in the online environment thanks to its robust security features, scalable hosting solutions, and dedication to client happiness.
FAQs
Is Namecheap a good choice for beginners?
Absolutely! Namecheap's user-friendly interface and affordable pricing make it an excellent option for beginners.
Can I transfer my existing domain to Namecheap?
Yes, Namecheap provides accessible domain transfer services. Follow their step-by-step guide to initiate the transfer process.
What is the advantage of using WhoisGuard privacy protection?
WhoisGuard privacy protection helps keep your personal contact information private, reducing the risk of spam and identity theft.
Does Namecheap offer website migration assistance?
While Namecheap doesn't provide dedicated website migration services, their support team is available to offer guidance and assistance during the process.
Are there any discounts or promotions available with Namecheap?
Namecheap frequently offers discounts and promotions on domain registrations and hosting services. Check their website or subscribe to their newsletter to stay updated on the latest offers.
Does Namecheap offer coupon codes?
Read More: