In today's digital world, freelancing has become a more popular way to make a living. With many freelancing platforms available, one platform that stands out is Fiverr. This article will dive deep into Fiverr and explore its features, pros and cons, tips for successful collaboration, pricing structure, creating gigs, writing compelling gig descriptions, the review system, resolving issues, customer support, Fiverr coupons, and more.
Introduction to Fiverr
Fiverr is a platform that links freelancers with clients from all around the world. It offers various services, spanning categories such as graphic design, writing and translation, digital marketing, programming, and more. Whether you're a business owner looking for professional services or a freelancer seeking opportunities, Fiverr provides a platform for buyers and sellers to connect and collaborate.
How Does Fiverr Work?
Fiverr operates on a gig-based system. Freelancers create gigs, essentially service offerings, and buyers browse these gigs to find the right freelancer for their needs. Each gig comes with a detailed description, pricing information, and reviews from previous clients. Once a buyer finds a suitable gig, they can place an order and provide project requirements to the freelancer. The freelancer then completes the task and delivers the final work within the agreed-upon timeframe.
The Pros and Cons of Fiverr
Like any platform, Fiverr has its advantages and disadvantages. Let's explore some of them:
👉 Pros:
👉 Cons:
Choosing the Right Freelancer on Fiverr
When searching for a freelancer on Fiverr, it's essential to consider several factors to ensure a successful collaboration. Here are some tips to consider while choosing a freelancer:
Define your project requirements clearly.
Read gig descriptions thoroughly to understand what each freelancer offers.
Review the freelancer's profile and past work samples.
Check the freelancer's ratings and feedback from previous customers.
Use Fiverr's messaging system to communicate with potential freelancers and clarify doubts.
Request custom offers or samples, if needed, to assess the freelancer's skills and compatibility with your project.
Tips for Successful Collaboration on Fiverr
Collaborating with freelancers on Fiverr can lead to remarkable results if done right. Consider the following tips to ensure a smooth and successful collaboration:
1. Establish precise project requirements:
Communicate your expectations, deadlines, and any specific details related to the project.
2. Maintain effective communication:
Keep open lines of communication throughout the collaboration to promptly address any questions or concerns.
3. Provide constructive feedback:
Offer feedback to freelancers to help them improve their work and align it with your expectations.
4. Respect freelancers' expertise:
Trust the freelancers' skills and knowledge in their respective fields. Allow them creative freedom while providing guidance when necessary.
5. Honor agreements and payments:
Ensure timely payments and fulfill any commitments made during the collaboration.
Fiverr's Pricing Structure
Fiverr offers a flexible pricing structure for freelancers to set their service rates. While the platform initially gained popularity for services starting at $5, freelancers now have the freedom to charge higher rates based on their expertise and the complexity of the projects. This pricing flexibility allows freelancers to showcase their value and earn a modest income.
How to Create a Gig on Fiverr?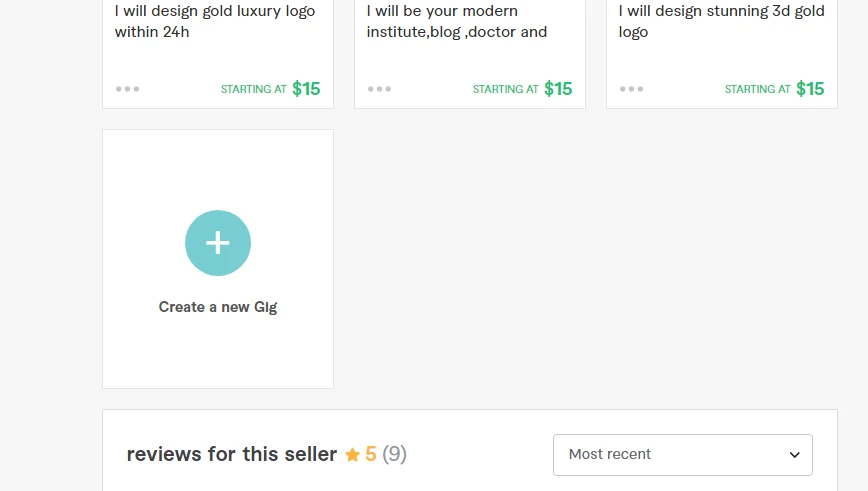 Creating an appealing gig on Fiverr is crucial to attracting potential buyers. Here's a step-by-step guide to creating an engaging gig:
Step 1: Choose a relevant category
Select the category that best represents your service to ensure your gig reaches the right audience.
Step 2: Craft an attention-grabbing gig title
Create a title that accurately describes your service and captures the attention of potential buyers.
Step 3: Write a compelling gig description
Clearly explain what you offer, highlight your expertise, and outline the benefits clients will gain from working with you.
Step 4: Add relevant tags and keywords
Include relevant keywords and tags that buyers might use to search for services like yours.
Step 5: Set gig pricing and packages
Determine your pricing structure and offer packages with varying service levels or more benefits.
Step 6: Upload eye-catching visuals
Include high-quality images or videos showcasing your work or samples related to your service.
Step 7: Publish your gig
Review your gig details and publish them to make them available to potential buyers.
Best Practices for Writing Effective Gig Descriptions
Clearly communicating your skills and services is essential when writing gig descriptions on Fiverr. Follow these best practices to write compelling gig descriptions:
Use a conversational tone to engage potential buyers and build trust.
Highlight your unique selling features and what separates you from other freelancers.
Include relevant keywords to improve your gig's visibility in search results.
Clearly define the scope of your service and any limitations.
Mention your experience, qualifications, and past successes to establish credibility.
Add a call-to-action, inviting potential buyers to contact you or place an order.
Fiverr's Review System and Buyer/Seller Ratings
Fiverr's review system is crucial in helping buyers make informed decisions and providing feedback to freelancers. After completing a project, buyers can rate and review the freelancer's work. These reviews contribute to the freelancer's overall rating, which indicates their performance and quality of service. Similarly, freelancers can rate and review buyers, ensuring transparency and accountability on the platform.
Resolving Issues and Disputes on Fiverr
Although most collaborations on Fiverr go smoothly, there may be instances where issues or disputes arise. Fiverr provides a resolution center to help buyers and sellers resolve conflicts. Maintaining open communication is essential, as giving evidence if necessary, and contacting Fiverr's customer support for help when needed.
Fiverr's Customer Support and Help Center
Fiverr offers customer support through its help center, assisting users facing technical issues, disputes, or other concerns. The help center includes a comprehensive knowledge base and frequently asked questions to address common inquiries. Users can also contact Fiverr's customer support team directly for further help.
Fiverr Coupons: Saving Money on Freelancing Services
Besides to its large selection of services and features, Fiverr allows consumers to save money with coupons. Fiverr coupons can be a valuable resource for buyers and sellers, providing discounts and incentives to enhance the freelancing experience. Let's explore how Fiverr coupons work and how to find them.
How do Fiverr Coupons Work?
Fiverr periodically releases coupons that users can apply to their orders for discounted rates or more benefits. These coupons typically take the form of coupon codes that may be used at the checkout. The discount or promotion is automatically reflected in the order's total price when a valid coupon code is entered.
Finding Fiverr Coupons
To save money and take advantage of exclusive discounts, visit our dedicated Fiverr coupons page. We have a list of the latest coupons that you can use to enhance your Fiverr experience. Our page is regularly updated with new promotions, ensuring you take advantage of every opportunity to save. Visit the Fiverr coupons Store to browse through our selection of coupons. Start maximizing your savings today and make the most of your freelancing journey on Fiverr!
Incorporating Fiverr Coupons Into Your Freelancing Journey
Whether you're a buyer or a seller on Fiverr, incorporating coupons into your freelancing journey can have several benefits:
👉 For Buyers:
Cost Savings: Using coupons allows you to access professional services at discounted rates, potentially saving significant money over time.
Experimentation: Coupons allow buyers to explore different freelancers and services without committing to higher costs. This flexibility enables buyers to try various gigs and find the fit for their needs.
Enhanced Budget Management: Coupons can help buyers stay within their allocated budgets while obtaining high-quality services. This financial flexibility can be particularly helpful for individuals or businesses with limited resources.
👉 For Sellers:
Attracting Customers: Offering discounts through coupons can be an effective marketing strategy to attract new clients. Buyers are more likely to consider a service when they perceive added value through deals.
Increasing Sales: Discounts provided by coupons can incentivize buyers to place larger orders or try out additional services. This can increase sales volume and create long-term working relationships with clients.
Building a Reputation: By offering discounts and deals, sellers can establish a reputation for providing value and attracting positive reviews from satisfied customers.
Conclusion
Fiverr has emerged as a significant platform for freelancers and businesses alike. Its user-friendly interface, wide range of services, and global talent pool make it a go-to choice for those seeking professional collaborations. Buyers and sellers can unlock their full potential on the platform by understanding how Fiverr works, choosing the right freelancers, collaborating effectively, utilizing the review system, and leveraging Fiverr's support.
FAQs
Can I trust the quality of services provided by freelancers on Fiverr?
Yes, Fiverr's review system and ratings help ensure the quality of services. Check freelancers' ratings, reviews, and portfolios before making a decision.
How can I ensure effective communication with freelancers on Fiverr?
Use Fiverr's messaging system to communicate with freelancers, provide clear instructions, and maintain open lines of communication throughout the collaboration.
Are there any additional fees besides the freelancer's service rates?
Fiverr charges a service fee for each transaction. The price varies based on the total order amount.
What should I do if I encounter issues or disputes during a collaboration on Fiverr?
Try to resolve the issue through open communication. If that doesn't work, use Fiverr's resolution center and contact customer support for help.
How can I contact Fiverr's customer support?
You can contact Fiverr's customer support by visiting their help center and submitting a request or using their live chat option for immediate help.
Does Fiverr offer coupon codes on orders?
Yes, Fiverr offers coupon codes for discounts on orders. You can find these coupon codes in our Fiverr Coupons Store at Guideth.
Read More: